Blurb:
He's sweet trouble...
Natalie Holden wants three things: To be the best chocolate chemist in Hershey, Pennsylvania, to prove her chocolate recipe can help teenage depression, and to get over gorgeous Luke Elliott, the guy she's had a crush on since birth. Unfortunately, he's the microbiologist set to debunk her chocolate study. And, of course, he looks more delicious than ever!
Luke Elliott is still bitter over his divorce. Work is his passion now, and landing a huge promotion is just what he needs. What he doesn't need is a crackpot trying to prove that chocolate cures depression. The last thing he expects is for the crackpot to be Natalie Holden—his "what if" girl from high school—or that she'd still tempt the hell out of him.
They may not see eye-to-eye on her project, but they can't deny the explosive chemistry that keeps pulling them together. Even when it risks their jobs and the very different futures they both want…
My Review
I enjoyed reading this book. It was what I would call an easy book with a tiny bit of angst mixed in. But overall a very light and easy read.
Natalie lives in Hershey, Pennsylvania and is a chemist that is trying to prove that her special chocolate recipe can help teenagers that are suffering from depression. I have to say I really liked this idea and loved how passionate Natalie was about her research and her end goal. I really feel like this part of the book was really thought out and was a huge part of the story.
Luke is recently divorced and still heartbroken. He's also a sugar Nazi as Natalie likes to call him. I really liked him even though he has an issue with chocolate.
These two together were good. I liked the banter between these two and they kept me smiling. If you are looking for something light, funny and clean, then this is the book for you.
***ARC provided in exchange for my HONEST review. Thank you.***
About the Author: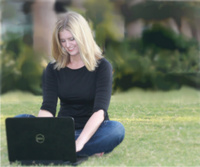 USA Today bestselling author Ophelia London was born and raised among the redwood trees in beautiful northern California. Once she was fully educated, she decided to settle in Florida, but her car broke down in Texas and she's lived in Dallas ever since. A cupcake and treadmill aficionado (obviously those things are connected), she spends her time watching arthouse movies and impossibly trashy TV, while living vicariously through the characters she writes. Ophelia is the author of KISSING HER CRUSH in the new Sugar City series; AIMEE & THE HEARTTHROB; CHALK LINES & LIPSTICK; DEFINITELY, MAYBE IN LOVE; the Abby Road series; and the Perfect Kisses series. Visit her at ophelialondon.com. But don't call when The Vampire Diaries (or Dawson's Creek) is on.