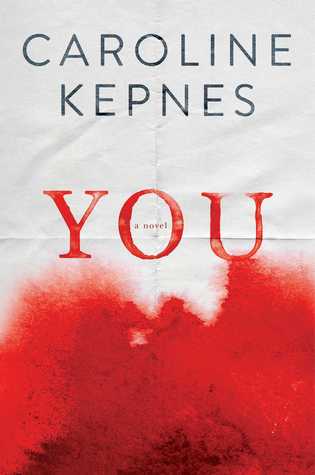 Love hurts...

When aspiring writer Guinevere Beck strides into the East Village bookstore where Joe works, he's instantly smitten. Beck is everything Joe has ever wanted: She's gorgeous, tough, razor-smart, and as sexy as his wildest dreams.

Beck doesn't know it yet, but she's perfect for him, and soon she can't resist her feelings for a guy who seems custom made for her. But there's more to Joe than Beck realizes, and much more to Beck than her oh-so-perfect façade. Their mutual obsession quickly spirals into a whirlwind of deadly consequences . . .

A chilling account of unrelenting passion, Caroline Kepnes's You is a perversely romantic thriller that's more dangerously clever than any you've read before.
My Review
First, let me get this out there... This is NOT romance.. Well not your typical romance.. But if you are like Joe, or can relate to Joe, then sure... it'll be romance. I don't know what I was expecting when I went into this book, but it wasn't what I got. I think I expected this book to turn into a romance with slight stalking.. I was, oh, so wrong.
Joe runs a bookstore and it is easy to see from the beginning that something is off with Joe. But you would never know that if you weren't in his head, hearing his fucked up thought process. I have to give props to Caroline Kepnes, she takes this sick, twisted, obsessive man and then makes me start to feel sorry for him. I had to constantly remind myself,at certain times, that he was CRAZY.
Beck's first mistake was walking into the bookstore. But it certainly wasn't her last. The woman herself is no saint. She may be just as bad as Joe. At first, I felt sorry for her, then the more I got to know her the more I really couldn't stand her.
Joe's obsession escalates through the entire book and Beck becomes transparent, but he is too consumed with her. This was a twisted story and it kind of takes stalking to a whole new level. Joe seems so normal to anyone he meets and is, I am guessing, easy on the eyes. So to imagine this man stalking anyone is crazy, but it happens. I also have to say how clever Joe is.
This was so well written in my opinion, and I am so glad I decided to read it. Every once in awhile you need to mix things up and
You
did not disappoint. It took a little bit to adjust to the way it was written, like a story being told, but it worked so well. So if you need to mix it up, then this is a good one to read!
4 Stars!
***No author info found..but here is the Goodreads link.***