Blurb:
If they want to have a future, they'll have to let go of the past...
Georgia Bennett likes to keep busy. So much so that sometimes it's like she's on autopilot. It's the only way she can cope with the tragic loss of her fiancé and move on with her life. Between nursing school and volunteering at the hospital, she barely has time to breathe. But when the bad boy of motocross gets injured and needs her help, she can't turn him down.
Brett Sallinger likes his women like his bikes. Fast. Uncomplicated. Replaceable. But when he finds himself forced to take time off of his professional freestyle motocross career to recover from a devastating injury, getting to know the guarded girl nursing him back to health becomes even more important than healing.
She's suffered so much loss already and is terrified of getting close to someone with such a dangerous career.
He's determined to bring her back to life and refuses to let her slip through his fingers.
With everything on the line they'll have to decide if it's worth the risk...
Special $2.99 Release Week Price!
My Review
This was such a good book and I really liked Georgia and Brett's story.
Georgia is Nora's sister that we met in Book 1 of this series, Throttled. She's been through a lot already in life and is just trying to fill her days up and keep busy. But she gets a lot busier when Brett, one of Reid's teammates, gets injured and she offers to help take care of him.
Brett Sallinger is kind of like the bad boy of Motocross. He lives life a little on the dangerous side since he rides Freestyle, which is some scary cool looking stuff, and has never been one to not take a risk. After he finds himself injured he decides to risk it all and pursue Georgia Bennett. After all, they both could use a little fun.
I really liked seeing things play out between these two and was relieved to see that it was mostly angst free. I feel like Georgia has been through enough and didn't need something that was going to be super complicated so I really enjoyed the connection and banter between her and Brett. I felt like these two really balanced each other out.
I really do like this series and cannot wait to read Hoyt's book, along with hopefully getting glimpses of Nora, Reid, Georgia, and Brett!
4 stars!!!!
***ARC provided from the author in exchange for my HONEST review. Thank you!***
About the Author: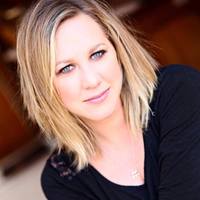 Born and raised in the middle of a Midwestern cornfield (not literally, that would be weird), I've spent my entire life imagining stories. Stories where the right guy always gets the right girl, first kisses are as magical as they are on the big screen and anything is completely possible if you believe.
Although this journey began years ago, it recently took on a whole new life. After years of devouring hundreds of Romance, YA and New Adult novels, I had an epiphany... I should write a book. And I did it!
If I'm not reading, writing, enjoying drinks with my amazing group of girlfriends or chasing around a sarcastically funny kid, I'm probably watching television shows that were created for teenagers, while my husband teases that I'm too old to watch them.
Connect with Elizabeth Lee