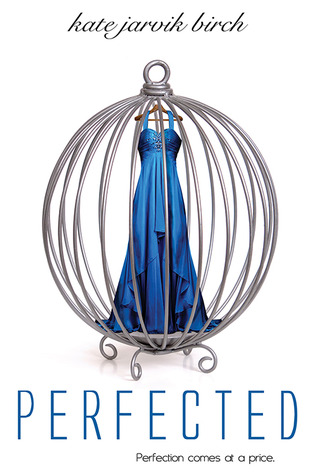 Blurb:
Perfection comes at a price.
As soon as the government passed legislation allowing humans to be genetically engineered and sold as pets, the rich and powerful rushed to own beautiful girls like Ella. Trained from birth to be graceful, demure, and above all, perfect, these "family companions" enter their masters' homes prepared to live a life of idle luxury.
Ella is happy with her new role as playmate for a congressman's bubbly young daughter, but she doesn't expect Penn, the congressman's handsome and rebellious son. He's the only person who sees beyond the perfect exterior to the girl within. Falling for him goes against every rule she knows…and the freedom she finds with him is intoxicating.
But when Ella is kidnapped and thrust into the dark underworld lurking beneath her pampered life, she's faced with an unthinkable choice. Because the only thing more dangerous than staying with Penn's family is leaving…and if she's unsuccessful, she'll face a fate far worse than death.
For fans of Keira Cass's Selection series and Lauren DeStefano's Chemical Garden series, Perfected is a chilling look at what it means to be human, and a stunning celebration of the power of love to set us free, wrapped in a glamorous—and dangerous—bow
My Review
I loved Perfected! For me it was very original in the way that things were done! I have seen it was compared to the Fever Series, and I have to agree. But it had it's own twist to things that made it stand out for me!
Number Eight was created and trained to be the perfect pet. Listen to your Master. Look pretty, sit tall. Always agree with your owner. These pets are just that, pets! But there is always more to the story. Living the life of luxury isn't always what it is said to be. Failing isn't an option though. No pet wants to be sent back. Being imperfect isn't an option. This world that the author has created is amazing and terrifying all at once. Can you imagine keeping a person as a pet. Like a dog or cat! These girls aren't slaves but they are owned. I was sucked into this book and just could not put it down. I finished it in a matter of hours! I won't lie at first it was slow but then as soon as I figured out what was going on I was appalled, intrigued, and had to find out what being a pet entailed! I feel like their was still so many unanswered questions left though. But I am hoping those are answered in the next book. I loved Ruby and Penn! They made this story so much more and I really loved watching the relationships between them and their Pet! I was disappointed but not surprised by some things in the story. The ending killed me though! How can you end it there?!?
5 Stars!
About the Author:
Kate has loved writing ever since she was a little girl. She wrote her first novel in fourth grade (the main character was suspiciously similar to herself). As an adult, her essays and short stories have been published in Isotope: A Journal of Literary Nature and Science Writing, Saint Ann's Review, Scissors and Spackle and in a forthcoming issue of Indiana Review. Her first play, (a man enters), co-written with Elaine Jarvik, was produced in 2011 by Salt Lake Acting Co.
Connect with the author:
Blog
Goodreads
Twitter handle: @
katejarvikbirch